Architecture
Articles & Press Releases - Friday, Sep 29th 2023
Architectural and design trends, innovations and awards.
Australia Wins Best Health Building In The World 4th November 2010

BVN Architecture won the Health Category award at the World Architecture Festival (WAF) this evening (Wednesday 3 November) in Barcelona for the Youth Mental Health Building at the Brain and Mind Research Institute (BMRI) in Camperdown, Sydney.
Pelli Clarke Pelli Architects' Vietcombank Tower Breaks Ground 28th October 2010 Vietcombank Tower will be the tallest building on Me Linh Square, a prime location on the west bank of the Saigon River.
Bangkok High Rise Wins Gold For Aussie Designers At National Architecture A 28th October 2010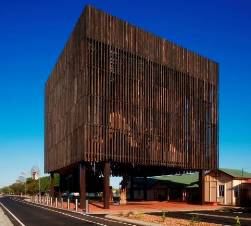 Announcing the award at a ceremony at the National Gallery of Australia in Canberra tonight, jury chair and leading architect Melinda Dodson said : "The Met in Bangkok, Thailand, is a seminal project representing major advances towards a possible future vision of ecologically responsible highly dense urban housing.
Leading Architecture Graduate Honoured In Launceston 28th October 2010

The jury panel, which included Associate Professor Leigh Woolley, and Todd Henderson from Launceston firm Birrelli, noted that 'David's ability to analyse and make strategic design decisions is made more poignant through a well developed ability to express ideas through drawing.
National Architecture Awards Announced - Community Spirit Marks Winners 28th October 2010 Presenting the awards, Jury Chair Melinda Dodson said: It's a contradictory time for architecture – we've had economic buoyancy followed by economic downturn.
Forum To Debate Architecture, Culture And Climate 27th October 2010 A public forum at RMIT Capitol Theatre on Thursday, 11 November, from 6pm to 7.30pm presented by RMIT Gallery will discuss why Melbourne and Berlin are regarded as the cultural capitals of their countries.
Submit Architecture Articles or Submit Architecture Press Releases.