Manufacturing
Press Releases & Articles 16 - 20 of 30
Bridgestone F1 And Local Manufacturing





26th March 2009 - Views: 802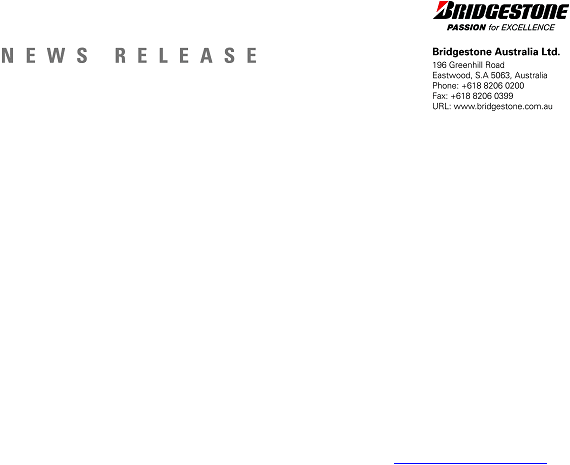 That's because Bridgestone is also the only manufacturer of tyres in Australia - and it's launched a campaign to remind motorists to think local.
Carrier Corp. And Midea Electric To Form Manufacturing Joint Venture In China





2nd July 2008 - Views: 849 Carrier Corp., a unit of United Technologies Corp. (NYSE: UTX), and Guangdong Midea Electric Appliances Co., Ltd (Shenzhen Stock Exchange. 000527), a unit of the Midea Group, have signed an agreement to form an air-conditioning manufacturing joint venture, Foshan Midea Carrier Air Conditioning Equipment Co., Ltd, in Shunde, China.
Hiring Confidence In The Manufacturing Sector Declines To Lowest Levels Since Late 2006





4th June 2008 - Views: 806

The Manpower Employment Outlook Survey released today, indicates the employment prospects for job seekers in the Manufacturing sector may well be softer than they have been for the past two years as business leaders intend to hire less new staff.
Wimax Expo Opens In Taipei With M-taiwan Leading The Way





2nd June 2008 - Views: 882 M-Taiwan has been underway for 3 1/2 years and the government's work, from issuing and deploying spectrum to assisting manufacturers to develop WiMAX equipment, is done. The achievements will be showcased on 2-6 June at the Taipei Show Hall Two in the world-class dedicated exhibition entitled 2008 WiMAX Expo, Taipei.
Altair Semiconductor To Provide Power Efficient Chipsets To Willcom Inc. For Next Generation Phs Tec





26th May 2008 - Views: 786

WILLCOM, Japan's largest PHS technology operator, chose Altair after an extensive evaluation of chipset solutions from semiconductor suppliers around the world.