Construction
Press Releases & Articles 216 - 220 of 244
Call To Mandate Sustainable Office Buildings





5th November 2010 - Views: 1310

While governments and progressive companies try to move to sustainable developments, existing office buildings are based on old technologies, which are heavy consumers of our finite resources.
Registered Building Practitioners - A Name That Matters





4th November 2010 - Views: 1353 According to the 2010 survey, building practitioners are placing a strong value on being an RBP, with 82 per cent reporting they highly value their status – a figure which increased to 90 per cent for practitioners with less than 15 years experience.
Rate Rise Risks Housing Back In The Slow Lane





2nd November 2010 - Views: 1161 Mr Harnisch said, "The risk is that the Reserve Bank's interest rate strategy will only exacerbate an already significant undersupply of housing and put further pressure on rising rents which feed into consumer price inflation."
Warm Weather Warning





29th October 2010 - Views: 907

The alert follows yesterday's tabling of the Child Death Review Team 2009 Annual Report which revealed that seven children drowned in private swimming pools - five incidents involved either faulty or inappropriate pool fencing, or pool gates being propped open.
Spasa Nsw: Response To Nsw Child Death Review Team Annual Report





29th October 2010 - Views: 1116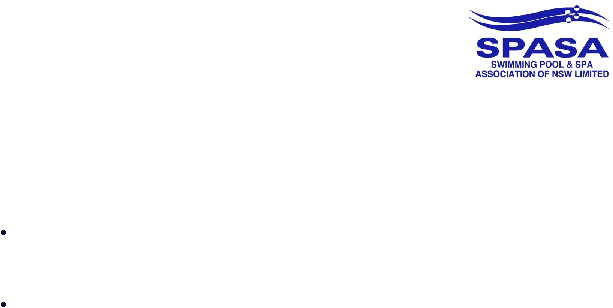 Councils are still ill equipped to deal with pool fence inspections. SPASA has made itself available to work with the Department of Local Government through its vast retail network to assist in the inspection of fences as a possible solution.